MUSIC & GUITAR
I'm a very left-brained, logical thinker in most ways, and yet music is something that is able to break through that barrier and reach me on a purely emotional level. This capability of music has always fascinated me and, after I finished college, I even tried to pursue research on the ways in which the mind of a musician works, but I was unable to find anyone on the faculty at U. of Michigan who was very supportive. About seven years later, I was frustrated to read a study on CNN.com on the very type of thing that I had hoped to study back then.
Nonetheless, my own personal journey into understanding the basis of musical appreciation and performance in the human mind has encompassed a lot of study regarding music theory, music education, and ear training. I highly recommend the David L. Burge
Relative Pitch Ear Training
SuperCourse, which did more for my understanding of music than anything I've ever used. One of my favorite exchanges in this realm was when I got to talk to two-time Grammy Award nominee
Gerald Eskelin
, author of
Lies My Music Teacher Told Me: Music Theory for Grownups
.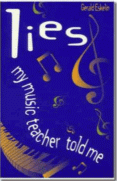 I had always felt that in my years of piano and guitar lessons, something was missing and that I had not been taught properly. Eskelin's book helped me realize why. Hardly anyone these days is taught music properly for reasons that I will explain in more detail when I update this page.
As far as my own playing, my main instrument is guitar. I also took piano lessons as a kid and still maintain a little talent there, but not a great deal. My claim to fame in this area is that I can play any tune you mention on the spot by ear really badly. It may not be high quality but you'll recognize it and it's a lot of fun to be able to figure things out by ear as I go. On guitar, I am a lot better and can also figure out most things by ear. But even when playing music, my left-brained tendencies take over and I usually find myself trying to understand the structure of what I'm playing rather than just playing.
Ear Training Resources
EarTest - Computer program that helps you train your ear on Windows.
Listen - Ear training program for Mac users.
Other SystemsThinker Music Resources
If you found this page helpful, then:
Subscribe to My Free Newsletter
Get bonus content full of ideas to help you develop
greater understanding and insight in many areas of life.
OR
Main Interests Page