May 5th, 2008 by Howard Ditkoff
The End of a Borderline-Riddled Relationship
As described in my last blog post, "Choosing Intimate Partners: To Repeat or Not to Repeat?" I was recently involved in a challenging relationship that followed a familiar course. It began intensely, inspiring great hope for mutual healing and joy. However, gradually patterns emerged that I recognized from experience as typical of relationships involving a Borderline dynamic.
Because of my familiarity with conflicting relationship theories, I felt torn on how best to respond to these worrisome signs. Parts of me believed that the only healthy option was to disengage from the relationship - or more precisely, to resign myself to the growing awareness that my partner had already, for the most part, disengaged. Yet, other parts of me still held out hope that, in the manner of Imago Relationship Therapy, we could become more conscious of the archetypal dynamics involved, agree to reconcile, salvage the fragile but invaluable opportunity and harness the relationship's conflicted energy toward growth.
However, shortly after writing that post, it came to my attention that the situation had long been, unbeknownst to me, even more complicated and dysfunctional than I had imagined. I had been deceived and misled in ways that, combined with many signs from throughout the course of the relationship, pointed rather convincingly to the conclusion that yet another potentially wonderful and nurturing partnership had been sabotaged by the tragic presence of Borderline Personality Disorder (BPD).
Revealing Conversations About an Under-Recognized Epidemic
In the painful aftermath of this realization, I spoke with many people who had experienced the shattering fallout of a relationship with someone suffering from BPD. The content of these conversations reinforced my confidence regarding my assessment of this relationship and refocused me yet again on the crucial role that this disorder plays in so many of our lives. The sheer numbers of people who shared their stories with me reinforced how prevalent BPD really is (I believe that it is far more widespread than typical estimates because those with BPD often fail to seek or remain in treatment and because they are often misdiagnosed, for example as Bipolar, due to clinician error, as well as to exploit more generous insurance coverage). Their heartwrenching tales dramatized the tremendous, and statistically disproportionate, emotional toll that the disorder takes on our society by way of all of us directly and indirectly affected by it.
I have gone so far as to say that Borderline, along with perhaps Narcissistic Personality Disorder (NPD), is the core disorder of our culture. In this assessment I seem to be in agreement with the eminent pioneer in the treatment of Personality Disorders, James F. Masterson, M.D., whose book, Search For The Real Self, focuses almost exclusively on these two disorders and, in its subtitle, identifies them as "The Personality Disorders Of Our Age." I am also in agreement with Jerold J. Kreisman, M.D., author of I Hate You, Don't Leave Me, who has declared ours "the Borderline society." And yet, in far too many cases BPD - and NPD for that matter - remain shockingly unrecognized.
For example, the other day I received another reminder of just how elusive the recognition of Borderline Personality Disorder can be. I was speaking with someone with whom I had discussed BPD many times, including several times in the past few months, and who had heard a great deal about its presence in my recent relationship. This person was having great difficulty in a relationship of their own with someone close to them, describing it as an ordeal that had begun to take a toll on their self-esteem and frustrated them to the point of tears. As we talked about the specific course of the relationship, I pointed out that it was beginning to sound remarkably like a story of BPD.
Sure enough, as we looked over the symptoms of the disorder and the typical experience of the Non (the person who does not have BPD themselves but is in some form of relationship with someone that does), this person experienced the "light bulb effect." They were extremely relieved that the baffling behavior of this acquaintance finally made sense. Yet I was taken by how this person, who had repeatedly heard about BPD from me in past weeks and months, still failed, as so many of us do, to recognize it even when faced with it directly.
Every day in our society, millions similarly fail to recognize the insidious and often devastating effects of BPD in friends, lovers, family members, co-workers, and, of course, in themselves. Given the central role of this disorder in our culture, the impact of its under-recognition and under-treatment on both BPD's and Nons, as well as on the fabric of society as a whole, is enormous. It is my belief that, along with NPD, Borderline Personality Disorder is becoming a public health epidemic along the lines of diabetes or alcoholism (in fact, many cases of substance abuse are merely symptoms of a broader underlying personality disorder.) We desperately need greater awareness and publicity of this issue.
The Emotional Blind Spot, Denial and Projection, and Normalization: Obstacles to Awareness and Recognition of BPD
Yet, for a variety of reasons, BPD is not yet a household name.
Firstly, while disorders such as diabetes and alcoholism almost always eventually lead to noticeable physical effects, BPD's impact often takes place at a more subtle emotional level. It can drastically interfere with the personality development and relationship skills of children of parents with BPD and ravage the self-esteem of those Nons that interact closely with the person with BPD, not to mention the obvious suffering and pain that the person with BPD themselves experiences. Just reading the stories of those suffering from Borderline Personality Disorder or those who have loved them provides a testament to the trail of tears often left in its wake. However, because of the emotional blind spot in our culture, whereby physical and property damage elicit greater concern than emotional damage - even though emotional damage often underlies physical damage and even suicide or death - BPD remains less publicized than equally or even less damaging physical disease conditions.
Secondly, Borderline presents a difficult conundrum in that the dynamics of the disorder itself complicate the ability for those with BPD, Nons and others to recognize it. The entire psychodynamic purpose of BPD is to obscure awareness of its existence from the sufferer themselves. Meanwhile, denial and projection are key features of the disorder that serve to keep others from recognizing the disorder or even to create the illusion that it is the other person, not the person with BPD, who is dysfunctional.
Finally, as mentioned, the BPD dynamic is so central to the function - and dysfunction - of our culture that we have become what Jerold Kreisman calls "the Borderline society." Hence, like water to fish, the dynamics of BPD have often become normalized to the point of invisibility, and in many cases are even romanticized or admired. Borderlines, like many Narcissists, often achieve positions of status and power in our society. In such a circumstance, there evolves a conflict of interest in which many share a vested interest in maintaining an image of such behavior as acceptable and expected.
Two Events Place a Spotlight on Borderline Personality Disorder
Given the difficulty that these obstacles pose to raising awareness of BPD, I was especially pleased by two events that happened last week during this eerily appropriate time when the disorder has again risen to the forefront in its effects on my life.
Ugly Betty Brings BPD to Prime Time
First, I was made aware that last week's episode of the Golden Globe, Peabody and Emmy Award-Winning television show Ugly Betty featured a character diagnosed with, among other things, Borderline Personality. While many characters in the past have displayed symptoms that seem to indicate the presence of BPD - for instance, Alex Forrest in Fatal Attraction, Clementine Kruczynski in Eternal Sunshine of the Spotless Mind, and others discussed in my review of I Hate You, Don't Leave Me - this was the first time I had seen a character explicitly described on-screen as having BPD.
You can view this episode of Ugly Betty, which is Episode 15 of Season 2 and entitled "Burning Questions" at ABC.Com's Full Episode Player. The particular scene in which the character of Renee is described as having a Borderline Personality takes place at approximately 31:43 of this version of the episode.
I must admit that, while it is expected for a dramatic television show to do so, I was a bit disappointed because the episode somewhat sensationalized the disorder. While some with BPD are no doubt as violent and out of control as the character of Renee in this episode, she represents a rather extreme example of BPD, and also is someone with other co-morbid conditions further exacerbating her presentation. I also found it rather unrealistic that the character seems to gain a measure of insight at the end of the episode that I haven't found common even in people with BPD alone, much less those with other conditions complicating the picture.
Nonetheless, I was pleased to see the term "Borderline Personality" get some recognition in a television show at the forefront of pop culture. I was also pleased that the episode did display accurately some of the disorder's most important elements, such as the character's intense fear of abandonment and difficulty maintaining a solid reality, especially when jealous. They also depicted well the shellshock of her partner, Daniel, after the relationship ends. I hope that the episode will motivate more people to seek knowledge about BPD, while at the same time I hope that they don't take Renee's character as a typical example of the disorder. Many with BPD are very highly functioning people, may rarely or never be physically violent, and their symptoms may be far more subtle and emotionally manipulative, rather than as over the top as Renee's.
U.S. House of Representatives Designates May as Borderline Personality Disorder Awareness Month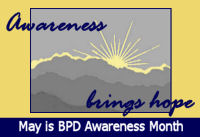 I was even more pleased, however, with the second relevant event that I learned of last week. I found out that on April 1, 2008, the U.S. House of Representatives voted 414-0 to pass the Resolution,
H. Res. 1005 [PDF]
, co-sponsored by Rep. Thomas Davis (R-VA) and Rep. Chris Van Hollen (D-MD),
designating May as
Borderline Personality Disorder Awareness Month
. While I realize that such designations happen commonly and are often formalities, I'm still hopeful that many of us will use this month to raise awareness of BPD, how it truly presents, and its impact.The
website of the National Education Alliance for Borderline Personality Disorder
(NEABPD) offers more information about the designation and suggestions and tools to help spread awareness of and publicize the disorder during this month.
Education, Appreciation and Publicity: Making the Most of Borderline Personality Disorder Awareness Month
Here are some of my suggestions on what you can do this month, and ongoingly, to better understand and help heal this growing epidemic in our society, which, given the disorder's prevalence, is likely at some point to touch each of our lives.
Educate yourself, your friends and your family about the disorder so that you can recognize it if it is or if it becomes a part of your lives. I offer several resources on this website where you can begin learning about the disorder, and where I link to many other resources, as well. These resources on my site include:

My Borderline Personality Disorder bookstore section which includes books like the following:


As you read more of the resources on my site and to which I link, you may experience the "light bulb effect", which can save you a tremendous amount of confusion and grief if you or someone you care about has BPD.

Also, as a result of recent events refocusing me on the issue and in conjunction with BPD Awareness Month, I may try to write a bit more about various aspects of the disorder in my essays section. I've written a short introduction to a new collection of Essays on Borderline Personality Disorder and will add essays at that spot as I write them (so check back there every so often.)
If you appreciate Congress' measure bringing attention to this important condition, call or write to your Congressperson or to Rep. Thomas Davis and/or Rep. Chris Van Hollen and express your support for greater publicity and research regarding Borderline Personality Disorder.
If you feel strongly and want to take a more active role, use the posters, flyers, handouts, press releases and other tools offered at the NEABPD web page to spread the word about BPD.
Compassion and Hope for Healing
Finally, I want to make clear that when I speak and write about Borderline Personality Disorder, I do so with great compassion for all of those that it effects - those who themselves have BPD, Nons and anyone else affected by it. For people in any of those positions, the disorder is nothing short of a tragedy that stems from and perpetuates a cycle of deep wounding and pain. I still care deeply for those who have been in my life that suffer from BPD, including those that I have eventually become unable to maintain contact with. Unfortunately, the need to impose healthy boundaries is primary when faced with a relationship in which BPD is involved and, in some cases, the boundary must be quite rigid.
Nonetheless, it remains my greatest hope that someday those boundaries become less necessary and that those relationships could again flourish and become sources of responsible mutual healing rather than pain and dysfunction. Perhaps with greater awareness, publicity and recognition of BPD, combined with improved treatments and motivation for those affected to seek treatment, more of those painful rifts will one day be healed.
Trackback Address for This Post
If you found this page helpful, then:
Subscribe to My Free Newsletter
Get bonus content full of ideas to help you develop
greater understanding and insight in many areas of life.
OR
All of your support helps me continue writing and sharing information like this and is greatly appreciated!
Related Posts

Tags: borderline personality disorder, culture, denial, epidemic, fear of abandonment, i hate you dont leave me, imago, james f masterson, jerold j kreisman, narcissistic personality disorder, non borderline, personality disorders, projection, psychology, public health, relationships, u.s. congress, ugly betty
Included in: Carnival of Family Life - May 12th Edition, Total Mind and Body Fitness Blog Carnival 49, Carnival of Healing #137, Health Wonk Review - May 15, 2008, Brain Blogging, Thirty-Third Edition